Many South Africans on social media have expressed their anger at the penalty awarded to Ghana during Sunday's crucial World Cup qualifier.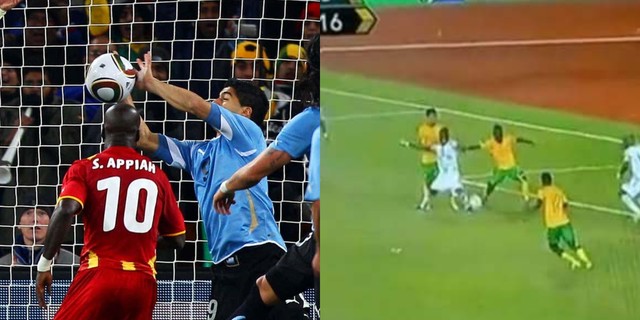 'You deserve what you got from Suarez' – South Africans 'bleed' over Ghana's penalty
Ghana secured qualification to the play-off round following a hard-fought 1-0 win over Bafana Bafana at the Cape Coast Stadium
The Black Stars finished Group G with the same points as South Africa, but edged Hugo Broos' side due to a superior goals scored.
The only goal of the game came in the 33rd minute when Andre Ayew scored via a penalty after Daniel Amartey felled in the 18 yards box and his reaction visible from anywhere got him a panalty.
While Ghanaians are celebrating their national team's latest victory, many South Africans are in an opposite mood.
Others also went full ballistics and went from raining insults on Ghanaians to wishing them bad luck in the next round of qualifiers as the claim the panalty awarded by the officiating was a very bias one and they can't cope with.
This made the South African fans went to the Twitter lane and remembered Ghanaians how they supported The Black Stars of Ghana in 2010 where Suarez catched a ball that almost entered the goal post.
they had turned around yelling to Ghanaians they deserved everything Suarez did to the black stars.
See some of the reactions below: